The type of louvre system, described in two ways. First, whether the louvre system is vertical or horizontal. Second, which way the louvres tilt.
For vertical louvre systems, the tilt of the louvres is described as tilted up or down from horizontal: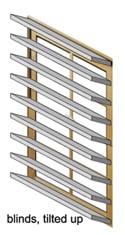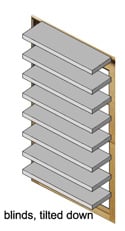 For horizontal louvre systems, the tilt of the louvre is described as tilted toward or away from the building (or wall, etc.):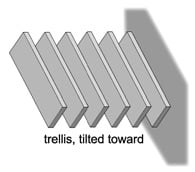 (If a horizontal louvre system is free-standing, just pretend it's attached to a wall at one end for the purpose of indicating orientation and louvre type.)
For exactly horizontal louvres, select either "up" or "down" and set the louvres tilt to zero. For a vertical system with exactly vertical louvres, select either "toward" or "away" and set the louvre tilt to zero.