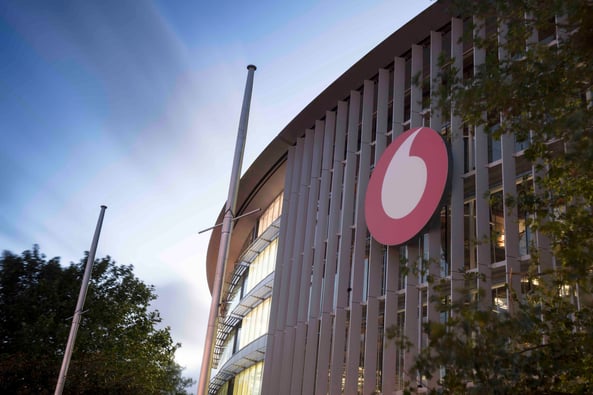 Vodafone New Zealand's main office in Auckland, is a refurbished high-tech building housing over 1800 staff in comfort and style.
Client: Smales Farm
Architect: Warren & Mahoney
Contractor: NZ Strong Construction
View this project and more in our Solution Portfolio. Download your copy here.
The Brief
The building was twenty years old and undergoing an extensive refurbishment. We were invited to put forward suggestions for a metal shading screen for a large curved glass façade.
The requirements were:
to modernise the appearance of the building

to reduce demand on mechanical cooling

to improve the tenants' working environment by minimising glare from early morning sun.
Key Challenges
To engineer a minimalistic and aesthetically unobtrusive support structure capable of clear-spanning a large existing curtain wall, without penetrating the glazing.

To install and deliver large volumes of products and materials at a site located right beside a busy main intersection.
Our Approach
We presented several options that complied with the brief, while requiring no fixing through the existing 20-year-old glazed curtainwall. Working alongside the architects, we arrived at final design of a 5-storey high, 21m-wide aluminium structure with vertical 450mm fins.
Result
The vertical fins provide protection from early morning glare, while the horizontal perforated walkways offer shade from the later morning sun.