Modern façade projects include technical features that protect the building from the elements, improve its energy efficiency and make its occupants more comfortable and more productive.
The purpose of a façade, however, is also to leave a lasting impression and become its architect's signature.
In this blog, we'll present six examples of unique-looking façades that show what architects from around the world have achieved, thanks to new materials, new uses of old materials, and large doses of creativity.
Linz, Salon Mittermeier
This façade for a hair couture salon in Austria is, first of all, an iconic business sign. Outside, the three-dimensional design looks different to passers-by as they change their point of view. At the same time, it protects the privacy of clients inside.
Barcelona, Port Vell Marina
The white façade joins together the two separate buildings, a restaurant and bar, and offices. The colour of the structure blends with the predominant white hulls from the boats of the marina. The perforations protect from both direct sunlight and the strong winds from the sea.
Los Angeles, Petersen Automotive Museum
The façade evokes the shape of a car (but without being an exact replica) and the idea of speed. It's a strong architectural statement that is directed at both car and architecture enthusiasts. To build the structure, architects employed 308 custom-built ribbons made of stainless steel and aluminium. At night, the façade is lit by LEDs placed behind the ribbons.
Miami, Tom Ford flagship store
The style of the façade is a tribute to Art Deco, which was very popular in Miami during the post-WWI years. The building has a smooth entrance surrounded by a façade of pleated panels made of glass fibre-reinforced concrete. At night, the façade is backlit to emphasise the geometric patterns.
Beijing, Banqiao South Alley
In this experimental façade, the material of choice was high-performance concrete moulded into a three-dimensional undulating shape. The function of the perforations is to make the structure lighter and more stable and to filter sunrays during the day. At night, the backlighting reveals the portrait of Mao Tse Tung.
Wellington, Xero building
The refurbishment project of this two-level heritage building added three new levels and a façade. The main purpose of the façade was to protect the building from the strong winds and corrosion coming from the seafront. Also, its design had to integrate with the existing building without overshadowing the original façade.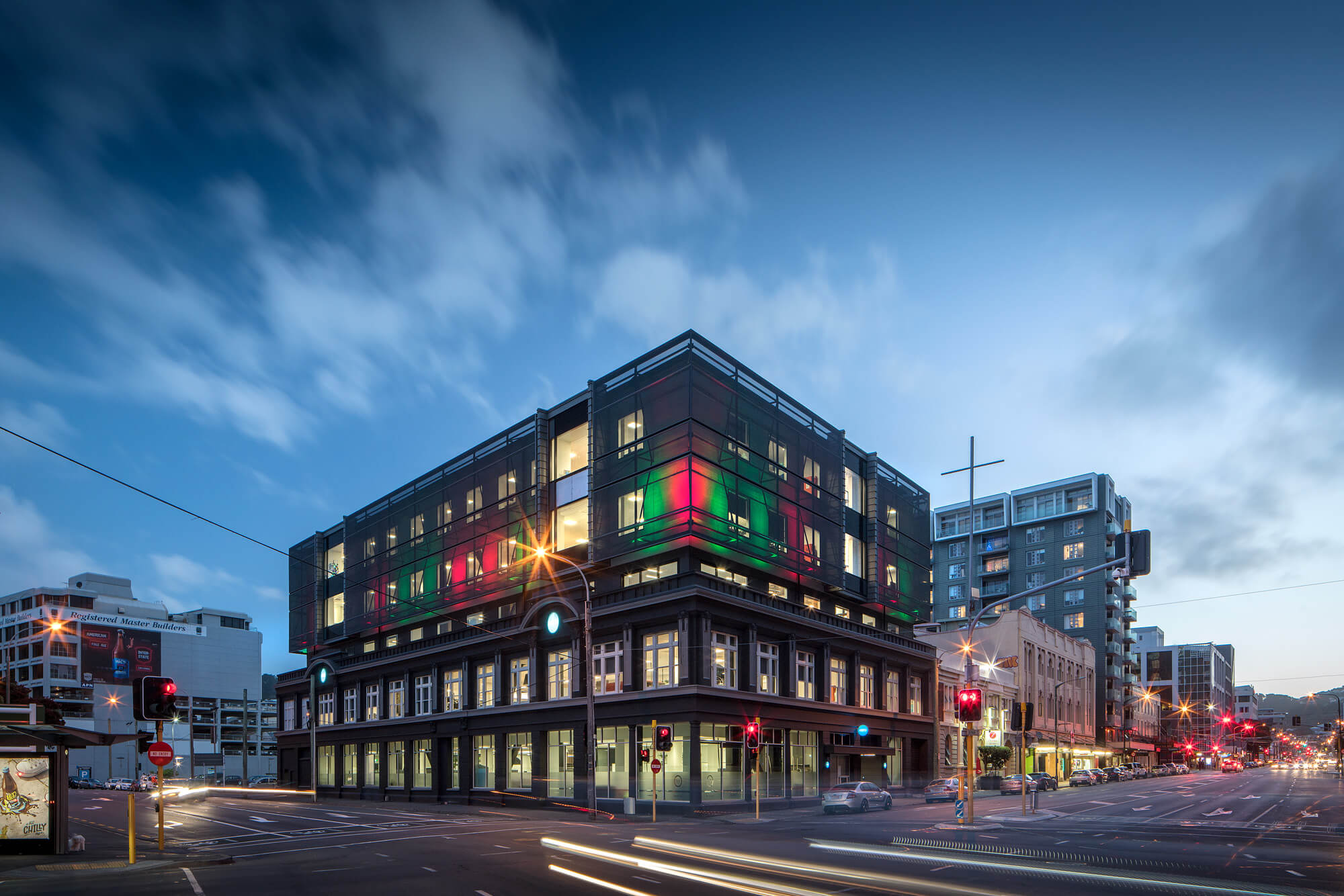 Conclusion
These examples show the various intentions behind remarkable-looking façades. They can integrate with the location, represent a historical reference, enhance an existing façade that is worth preserving or be an iconic business sign to attract customers and visitors.
For more information on the façade project for the Xero building, and how we approached the client's brief, check the case study.
Sources:
Los Angeles, Petersen Automotive Museum
Miami, Tom Ford flagship store