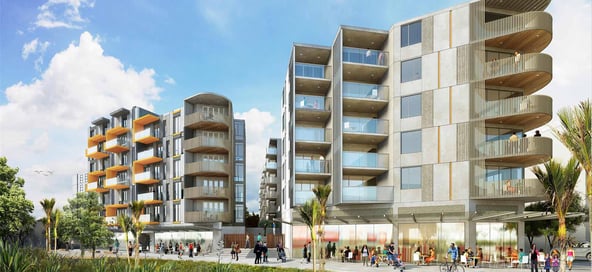 The Rose Gardens Apartments in Albany are New Zealand's largest residential complex. A stunning development with over 200 apartments
Client: Rose Gardens
Architect: Context Architects
Contractor: CMP Construction
View this project and more in our Solution Portfolio. Download your copy here.
The Brief
The design called for aluminium louvres that provided both shade and privacy between the individual apartment balconies. However, details were deliberately left relatively generic to allow the main contractor freedom to work with their preferred façade subcontractor.
Key Challenges
To engineer vertical louvre balcony screens to comply with New Zealand's balustrade standards.

To design inter-tenancy screens to ensure privacy between apartments, whilst retaining the natural spectacular views.

A lot of value to be added by refining and improving the current design of the façade.
Our Approach
We used several proprietary louvre profiles and provided a careful detailing of the bespoke secondary support structure and fixings.
Result
Our design enabled a rapid installation and allowed the privacy screens to be doubled as the balustrades, further reducing the project costs.
The façade of this building is accentuated by the vibrant colours used on the louvres and sunshades.