Lichfield Street Car Park is an eight-storey building with 805 car spaces in the heart of Christchurch. It opened in November 2017.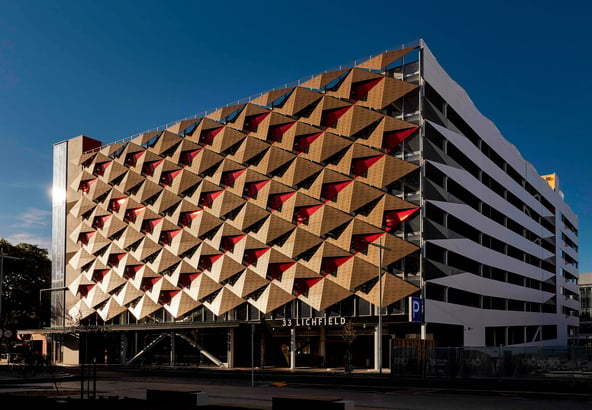 Client: Christchurch City Council
Architect: +MAP Architects
Contractor: Clearwater Construction
In 2015, the earthquake damaged Lichfield St car park was finally demolished, much to the relief of surrounding retailers.

And now, thanks to the ingenuity of a consortium led by Clearwater Construction including MAP Architects, a new parking building, sympathetic with its retail surroundings is soon to rise in its place.
With 804 parking spaces and 953 square metres of retail space, the building features connections to Ballantynes and the Guthrey Centre, electric charging for motor vehicles and bicycles and a large retail area activating Plymouth Lane and Lichfield Street.

With the building being predominantly constructed from steel and concrete, MAP Architecture approached Insol to create a beskpoke façade treatment to deliver to both the form and functional requirements of the project.


View this project and more in our Solution Portfolio. Download your copy here.
The brief
A subframe of stainless steel struts and nodes, overlaid with large flat aluminium diamond-shaped "scales" and translucent acrylic panels.
When MAP Architecture approached us to help with the design and construction methodology for this out-standing carpark façade… the answer was an enthusiastic 'of course'!
The requirement was for a bespoke façade of perforated diamond shaped metal panels that were angled out from the building face to provide ventilation, interspersed with red translucent panels that provided a strong colourful element to the architectural effect.
Key Challenges
Difficult fabrication of large single-piece aluminium modules.

The building faced a key roadway, with limited access for installation.

Towards the end of the project, we were asked to develop an additional barrier, to prevent people from self-harming by leaping from the top level.
Our Approach
We provided an alternative design solution that involved:
large single-piece aluminium modules with improved structural integrity

a simple fixing method for attaching the whole facade to the primary steel structure

an alternative extruded polycarbonate material for the translucent infills, and suitable fixing details to integrate it onto the facade.
With our construction methodology, everything was able to be lifted by hand and fitted from access machines, avoiding the need for extensive cranage and scaffolding.
Result
Installation was completed without additional delays.
We simplified the building process, improved the integrity of the structure, and created a simple and aesthetically appealing design.
We added the required extra protection, whilst remaining consistent with design intent.

See above: Lichfield Street prior to being demolished.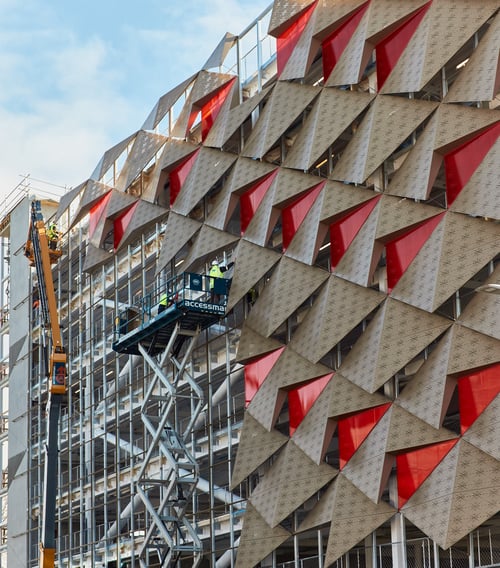 Lichfield Street under construction.