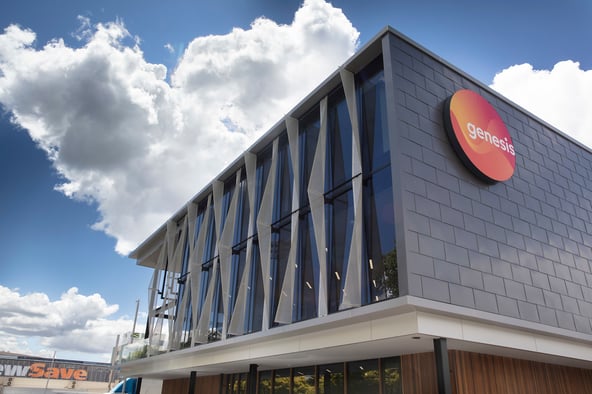 The Genesis Energy project is a building with an importance level of 4. It houses the remote control room for some of Genesis' power stations and serves as a contingency facility for Waikato's contact centre.
Client: DV Bryant Trust
Architect: Edwards White Architects
Contractor: Foster Construction
View this project and more in our Solution Portfolio. Download your copy here.
The Brief
We were involved early in the project to supply the bespoke aluminium façade.
The initial design required twisted and perforated aluminium fins. However, early pricing analysis showed that the initial design required value engineering to meet the budget.
Key Challenges
To provide alternative cost-effective solutions while keeping architectural intent.

To design and build additional elements while the project was underway.

To integrate solutions with multiple cladding types and window joinery.
Our Approach
We manufactured full-size visual mock-ups, and developed fixing details that eliminated or minimised secondary structural steel.
Additional decorative screening elements for the car park and generator enclosure were developed along the way. These were integrated with the existing building structure and the airflow/ventilation requirements.
Result
We worked through different options with the consultants to arrive at a solution that met both the budget and the architectural intent, to deliver a truly unique facade.