The Sylvia Park 10-storey office tower in Auckland is a landmark building located in the surrounding business park and shopping centre area.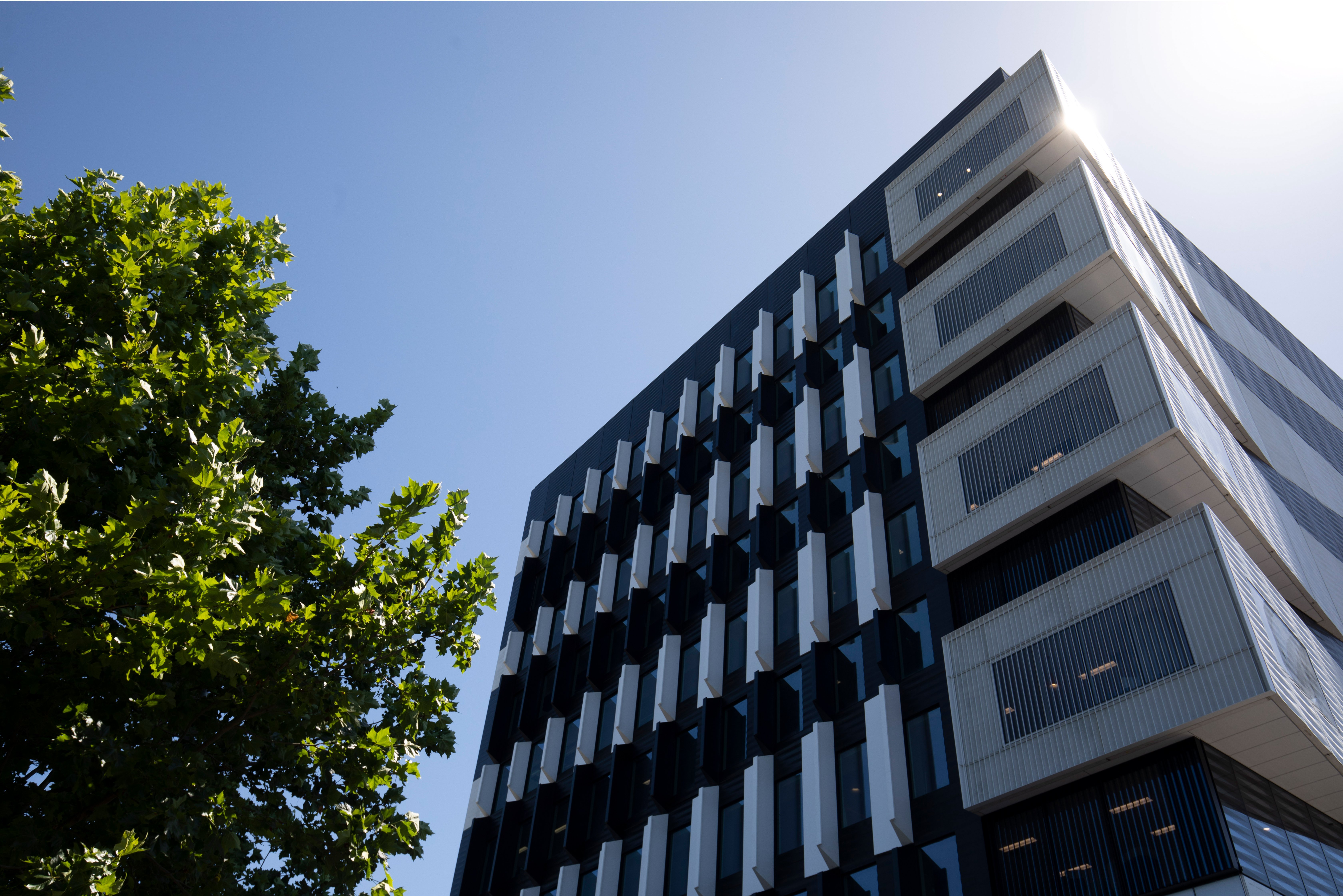 Client: Kiwi Property
Architect: Architectus Auckland
Contractor: Dominion Constructors
The Brief
The brief required large vertical sunshade fins to the east and west elevations, and vertical louvres over the projecting corner window 'pods'. The purpose of the fins and louvres was not only to provide sun shading, but also to prevent reflection off the windows and remove the possibility of sun-strike for the vehicles on the nearby motorway. Insol were engaged on a design build basis to meet the Architectural intent.
Key Challenges
The proposed design proved too expensive for the allocated budget. However, the design-build model allowed for a limited range of changes.
The façade panels had to be designed in such a way that any one of them could be removed without affecting others.
Due to budget limitations, the façade would have to be installed without the use of full scaffolding.

The large fins had originally been designed as concrete. This had been changed to aluminium to reduce the dead loads and seismic loads on the building structure. The challenge was to design an aluminium fin with the same form that would be robust enough to meet the demanding wind loads.
Our Approach
After in depth evaluation and modelling of the wind loads, and a lot of consideration of installation methodology, we came up with a design for the fins that met the architectural intent, was economic, buildable, and had a simple installation methodology.
The design involved five new extrusion dies and a new hidden fixing system to mechanically attach the aluminium skins to the sub-frame.
Hook rails were bolted into cast-in threaded inserts in the concrete wall panels. Each fin was then craned into place and hooked to the wall using a combination of lifting eyes and suction cups to keep the fin hanging vertical. Finally the fins were bolted to the hook rails to prevent any movement.
Result
Within the constraints of the design-build model and existing budget, we developed a cost-effective bespoke solution that delivered the functions and architectural intent required in the brief.
The result is a visually striking architecture that helps shape the journey down to South Auckland.
View our full case study including a video of the construction, design and installation process here.